"Plants want us to help them!"
This article is a stub. Please help the EA Games Wikia by expanding it. Thanks!
"Lets take some photos with Sims!"
There is a lack of images about this subject. If you have any images for this page, upload them and add them here. Thanks!
History
Plants vs. Zombies is a tower defense video game developed and originally published by PopCap Games for Microsoft Windows and OS X. The game involves a homeowner using a variety of different plants to prevent an army of zombies from entering their house and "eating their brains". It was first released on May 5, 2009, and made available on Steam on the same day.[1][10] A version for iOS was released in February 2010, and an HD version for the iPad.[11] An extended Xbox Live Arcade version introducing new gameplay modes and features was released on September 8, 2010.[4] PopCap released a Nintendo DS version on January 18, 2011 with content unique to the platform.[12] The PlayStation 3 version was released in February 2011 also with added new co-op and versus modes found in the Xbox 360 version.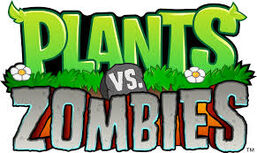 Gamemodes
AIn this EA game, there are many game modes.
Survival: Survive many waves of crazy levels.
Adventure: Defeat zombies and Unlock new plants every time.
Multiplayer: XBOX AND PLAYSTATION Exclusive, Battle players with Plants or Zombies.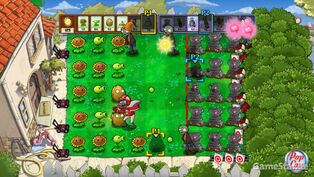 Plants
The plants are the Protagonists with Crazy Dave. The zombies want Dave's brains to eat. Use the plants to defend his house from hordes of zombies. After defeating Levels some times you get new plants.
Day unlockable plants:

Peashooter
Sunflower
Cherry Bomb
Wall-nut
Potato Mine
Snow Pea
Chomper
Repeater
Night unlockable plants:

Puff-shroom
Sun-shroom
Fume-shroom
Grave Buster
Hypno-shroom
Scaredy-shroom
Ice-shroom
Doom-shroom
Pool unlockable plants:

Lily Pad
Squash
Threepeater
Tangle Kelp
Jalapeno
Spikeweed
Torchwwod
Tall-nut
Fog unlockable plants:

Sea-shroom
Plantern
Cactus
Blover
Split Pea
Starfruit
Pumpkin
Magnet-shroom
Roof unlockable plants:

Cabbage-pult
Flower Pot
Kernel-pult
Coffee Bean
Garlic
Umbrella Leaf
Marigold
Melon-pult
Upgrades and other plants:

Gatling Pea
Twin Sunflower
Gloom-shroom
Cattail
Winter Melon
Gold Magnet
Spikerock
Cob Cannon
Imitater
Explode-o-nut
Giant Wall-nut
Plants vs Zombies Adventures
It's A Ghost-Town!
For some unknown reason this game was limited-time only and no longer exists. Therefore, it is archived.